A NIGHT TO REMEMBER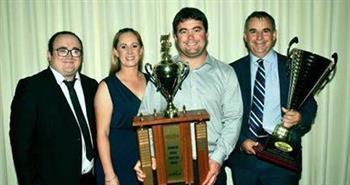 After a gruelling 10 rounds of competition across four states, the 2018-19 Queensland Speedway Spares (QSS)
World Series Sprintcars Presentation Dinner was a chance for teams to let their hair down and reflect on the season just gone.
The Burswood on Swan was filled to capacity with World Series teams and supporters, as Bennie Bishop hosted what would be a fitting end to an historic World Series Sprintcar championship that would see a non-contracted driver take out top honours.
The evening kicked off with a celebration of all our contracted teams and drivers, and the effort that goes in to tackling the toughest series in Australia. Shortly after, Kerry Madsen celebrated becoming Revolution Racegear Quick Time champion, by a tiebreaker over Rusty Hickman and Jye O'Keefe. Madsen also managed to hold out McFadden to the Top 8 shootout award after winning two Gold Shootouts and four third places.
Much was expected this season of Lockie McHugh, who despite struggling for speed displayed excellent race craft throughout his World Series campaign. His efforts were rewarded by taking out the American Racer Hard Charger award. Next up was our Rookie of the Year, which went to Kerry Madsen in what was amazingly his first attempt at as a contracted World Series driver.
Fan favourite Steven Lines took home the Western Swing award, his two-wins and a second place putting him a clear way ahead of second placed Madsen. This was followed by Mitchel Wormall earning Sportsman of the year, to the delight of his many supporters present on the night.
After a vote from World Series contracted drivers, outgoing World Series Champion James McFadden took home the Driver's Driver award – yet again showing the high regard in which he is held by the majority of World Series competitors. Crew Chief Darren Hickman won the Crew Chief of the Year award to the delight of all in attendance, backing that up by winning the Best Presented Team award along with Krikke Motorsport, after judges couldn't separate the two teams' high levels of professionalism.
The tail end of the Presentation Dinner saw the final four awards for overall points. The Contracted Teams Champion award went to Krikke Motorsport, while outgoing series champion James McFadden took third overall, Kerry Madsen in second and our new World Series Sprintcars Champion Steven Lines taking out the top honour.
Awards
Revolution Racegear Quick Time Award – Kerry Madsen
Top 8 Shootout Champion – Kerry Madsen
American Racer Hard Charger of the Year Award – Lockie McHugh
Rookie of the Year – Kerry Madsen
Western Swing – Steven Lines
Sportsman Award – Mitchell Wormall
Driver's Driver - James McFadden
Crew Chief of the Year – Darren Hickman
Oval Express Best Presented Team – Hickman Motorsport & Krikke Motorsport
Contracted Teams Champion – Krikke Motorsport
3rd Overall – James McFadden
2nd Overall – Kerry Madsen
Queensland Speedway Spares (QSS) World Series Sprintcar Champion – Steven Lines
Photo Credit: Peter Roebuck
Posted: 1/03/2019