BRIGHT EYED – MICK SALLER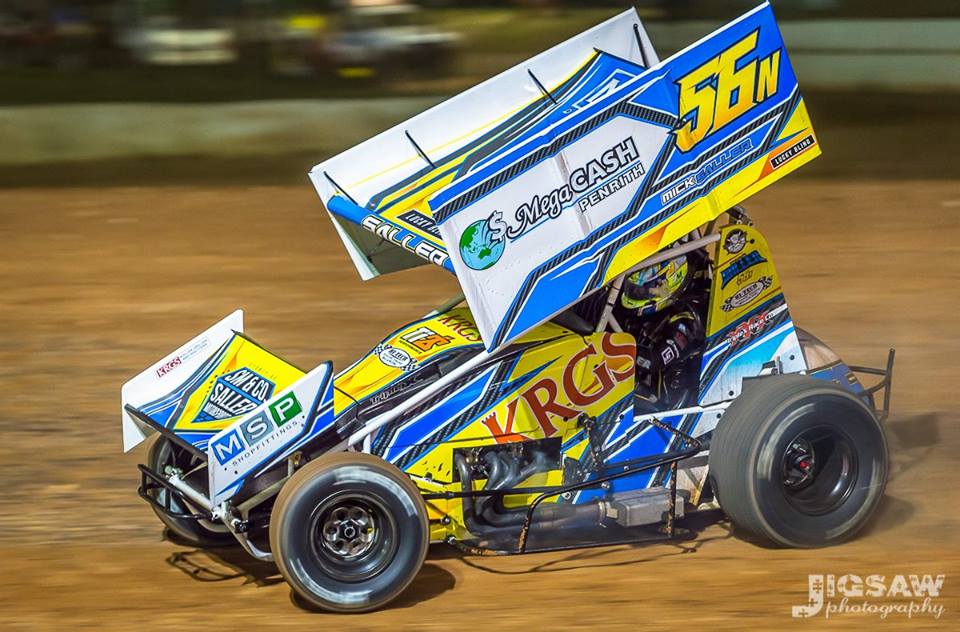 For 21 year old West Sydney Uni student Mick Saller, his rookie year in World Series Sprintcars signals the commencement of an apprenticeship into elite level Sprintcar competition , as he sets about paving a professional career in racing in Australia and the USA.
The 5 time Australian Karting Champion (AKA) enters his fourth season racing the 'Winged Wonders' bright eyed and excited for the opportunity to race against Australia's best at Australia's toughest tracks.
Saller will campaign Triple XXX Chassis' powered by Adrian Maher's Hi-Tech Engine Balancing under the banner of KRGS, King Roller Doors, Grills and Shutters No.56. Mick will be supported by his parents Monika and Mark and taking on the integral roll of Crew Chief will be Glen Hays.
Mick's Sprintcar career highlight to date is the 2015 NSW Sprintcar Association's recognition as Rookie of the Year and eyes the prize of the Bunyip Print WSS Rookie of the Year Award as a goal within his first WSS campaign. "We are well aware this will be a massive learning experience for me personally and as a team with the intended plan to complete 4 World Series campaigns back to back honing my skills to achieve professionalism." Mick said. "In saying that, we would like to get some top 10 results under our belt in WSS31."
Saller has enjoyed a taste of motorsport at an elite level representing Australia during the Trans-Tasman Tour for Karts in New Zealand.
"World Series Sprintcars is the pinnacle of our sport here in Australia and it's with determination and a desire to succeed that I will drive myself to achieve my goals. I'm proud to be a part of the WSS competition, it has such an incredible history which began a decade before I was born. I don't take my inclusion lightly."
Photo: Matt Hines of Jigsaw captures Mick at the wheel during last weekends Valvoline Raceway season opener.
Posted: 9/10/2017