CALENDAR CONFIRMED AND CHAMPIONS RETURN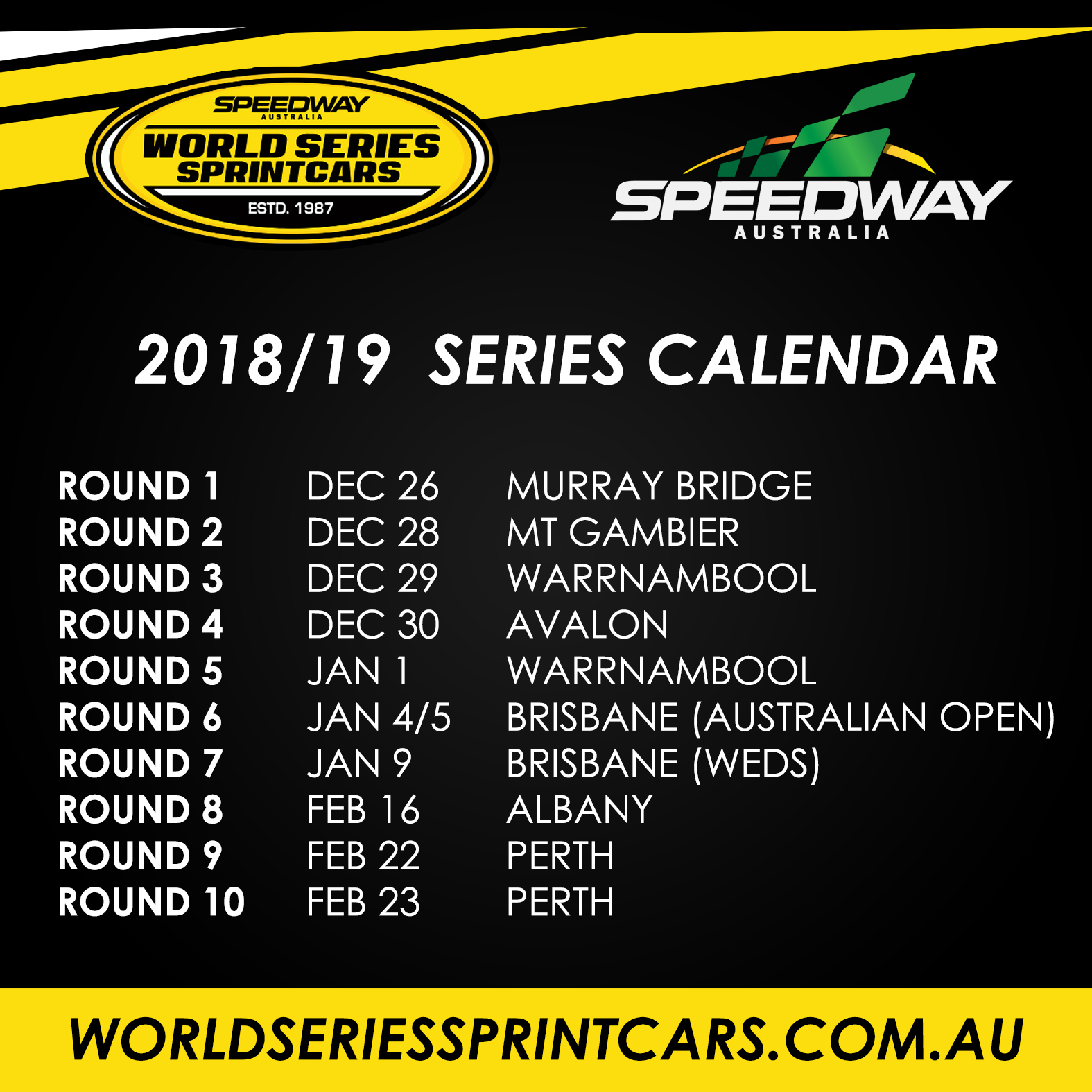 Speedway Australia, the promoters of World Series Sprintcars, are excited to announce the confirmed 2018-19 series calendar. A compact 10 round series has been considered the best option, taking on board the thoughts of key stakeholders, being the teams and tracks. If the calendar announcement wasn't enough to get you pumped up, we can also confirm that defending champions Monte Motorsport & James McFadden have already confirmed their inclusion at this early stage!
The 10 round series, with 11 nights of action thanks to the iconic Australian Open event, is set to be an all-out challenge of speed and consistency. Every fan knows just how gruelling World Series is on the teams competing, but this year's championship will offer even more importance on surviving every night.
Kicking off in Murray Bridge on Boxing Day, as per last season, Speedweek will take a new twist with a day off to travel on Dec 27. Following this, Speedway Australia's Track of the Year, Borderline Speedway Mount Gambier, will once again host their event on December 28. From there, Premier Speedway in Warrnambool takes on their first round of two for Speedweek this season, before teams head to Avalon on the 30th and double back to Warrnambool for the traditional New Year's Day show.
Queensland fans will once again witness the best of the best at the annual two day Australian Open at Archerfield Speedway on Jan 4th/5th. The usual first Wednesday of the year show doesn't work from a logistical perspective this year, so has been moved to follow the Open on Jan 9.
After taking a break for major events like the Darley, Classic & Australian title, World Series will once again venture to the west and to a track that produced fantastic heat racing last year, Albany Speedway. Albany have been rewarded this year with a Saturday slot on Feb 16, which should really help boost the crowd at the club run track.
It's been clear from the teams and fans over the last few years that one venue offers an abundance of glamour and grandeur befitting of the Grand Final. That venue is the Perth Motorplex and once again they will host the Grand Final weekend on Feb 22nd/23rd. With a compact series on offer, it looks highly likely the championship fight will go right down to the wire.
Finally, as mentioned above, the defending champions in Monte Motorsport and James McFadden will return once again in 2018-19, looking for their own threepeat of titles. Their consistency has been key over the past two seasons and they will head into the holiday period as the team to beat. McFadden will be hunting for his fifth championship title and a step closer to Tatnell and Dumesny in the history books.
Posted: 28/06/2018