"CHIEF BRIEF" WHO IS THE MOST SUCCESSFUL CREW CHIEF IN WSS HISTORY?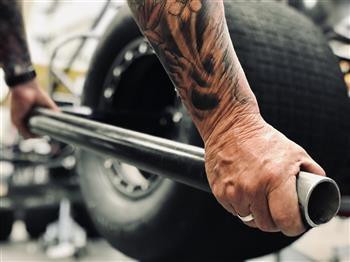 As the World Series Sprintcars roadshow heads into the final two rounds of the 2018-19 series, Steve Lines leads the tally by a slender seven points over Kerry Madsen with a further 230 back to James McFadden. As series host Bennie Bish discovered however, there's more on the line for Lines than just getting his second series win.
While it would be a significant win for the Mount Gambian fan favourite if he could steal the championship from Madsen and McFadden, Lines' team owners Dave and Lorraine Horrell would also claim their first championship and Crew Chief, Dave Sharman may be the one celebrating the most.
It's astounding to think that someone of Dave Sharman's calibre has never won World Series as a crew chief despite turning spanners for the biggest names in the sport. He's well liked and highly respected, and if he and Steve and the rest of the Horrell Motorsport outfit can pull it off, it will be an achievement that has eluded the Brisbane-based mastermind.
Sharman would join an amazing and varied list of crew chiefs if he could win the series, but first he will have to defeat a father and son combination who tune for the two other teams that are in the championship hunt.
"My first World Series was back with Randy Hannagan in '98-'99 and we won seven rounds that year and still didn't win the series!" says Kim "Buzzy" Buswell, crew chief for the Monte Motorsport #W17 of James McFadden. "It was absolutely heart breaking, but they voted me "Crewchief of the Year" that season so that made me feel a little better, considering I was tuning two cars with Scott Milling, the team owner who was contracted as well."
As he looks over his career, Buzzy points out that it's important to celebrate the wins, because the tough nights are always knocking on your door.
"I worked with Brad Furr both here and in the States in '01-'02 and we won a couple of nights and then another night where we went underweight at Bunbury, which was only a new ruling in those days. Those are the sorts of nights that tear your heart out, but thankfully my boss (Brad's dad Randy) who I was working for responded really well, because I thought I was going to be sacked!"
Despite the lowlights however, some success would come eventually for the West Australian father of two, who admitted to struggling to balance raising a family with the demands of being a full time Sprintcar mechanic.
"I had quite a big break from the sport until I joined Monte Motorsport in 2008 and we ran Ryan Farrell for a year. We then ran Steve Lines for two years, where we won his first Classic and first World Series round at Murray Bridge in 2010-11."
But no sooner had success become constant when Lines quit the team, opening the door for an impressive American who had won three of his eventual four Knoxville 360 Nationals Titles under his belt at the time.
"We had Shane Stewart for three years, and that was the biggest head-scratching three years of my life. It was so disappointing. We had an amazing driver, team, owner, and sponsors, and we just couldn't make it work. To this day we still don't know what it was but it was definitely a very low point. But thankfully we had a great two years with Kyle Hirst after that and then when Luch wanted to have an Australian driver so he could contest the Aussie Title, we took James on and that's obviously been fantastic winning the last two years of World Series."
Kim's son Dylan currently tunes the Krikke Motorsport W2 with Kerry Madsen and also has a World Series title to his name. After a long time assisting his dad, Luch Monte employed the Hampton High School student straight out of his graduation in 2008. His Sprintcar tuning apprenticeship found him working with Donny Schatz and Shane Stewart before taking the reins as crew chief in his own right in 2012. He won the Krikke Boys Shootout with Stewart before moving on to rival outfit, Krikke Motorsport in 2013-14 and taking a WSS title with Brooke Tatnell in just his second year as crew chief in 2014-15.
Other mechanics to hold the honour for one season include Craig Bennett spannering for Halls Motorsport and Steve Lines in 2013-14, Glenno Inglis with the only American to ever win the series in Darryn Pittman for Titan Racing in 2002-03 and Tim "Moth" Gleeson who tuned Skip Jackson to the third of his three series wins in 1998-99.
Ian Vale shared the crown in Max Dumesny's 1992-93 victory and Paul Knott tweaked Brad Heywood's maiden win in 1991-92. Steve "Steamer" Brazier was the maestro behind his son Garry's 1993-94 championship and Nick Speed was finally rewarded with Robbie Farr's 2010-11 triumph after running second three years in a row!
The Buswells are not the only father/son combination to have both claimed the premier national Sprintcar series, with Paul Felsch another youngster who grew up around racing and learning from his legendary father. Now based in Pennsylvania, Paul was the man behind the first two of Skip Jackson's hattrick of wins between 1996 and 1999.
"I still keep an eye on what's going on down there (in Australia) and Skip, Brooke and I probably talk once a week, so we're all still in touch just like the old days!" Paul says, with a unique accent that switches between the sound of a blue-collar Aussie and an American talk-show host.
"People talk about the 'good old days' but I'm not sure they were any better back then, but just different. We just loved it and we loved the travelling and driving from track to track was great fun. It's just what you did back then," he said, referring to the gruelling 1997-98 schedule that the Skilled Engineering/JJ Motorsports team won over 16 rounds.
After winning back to back championships, Paul couldn't resist the attraction to move to the USA where he would take up a role working for legendary engine builder Don Ott for the following eight years. He still does the odd special project for him to this day.
"We used to go to America every year and the big thing for us was bringing back the new little bits of technology to Australia and of course the other teams would catch on as well, but eventually I just had to move over to the States and be in the middle of it all."
These days, the sharing of Sprintcar technology between America and Australia happens far more efficiently than what it did back in the mid 1990's and one Victorian crew-chief is well known for keeping his finger on the pulse of the latest developments.
Glen Beaton has taken up residence with the Glen Sutherland #S20 again this year but has a unique record with his three wins as a crew chief in World Series competition. Beaton has the cashless honour of winning all his three titles with non-contracted drivers, taking the title in 2011-12 and 2012-13 with James McFadden and then with Jamie Veal in 2015-16, making him the fourth most successful crew chief in World Series history.
However, in a day and age when most high-end crew chiefs are on an incentive bonus somewhere around 10% of the total prizemoney, Beaton would be $6,000 richer if his wins were with contacted teams.
"You just have to move on and not think about what you missed out on," Beaton says with a laugh, "but I was on bonuses with Jason Meyers when we won the World of Outlaws in 2010, so I guess that makes up for it," he added with a somewhat tongue-in-cheek consolation. He's quick however to reinforce the sense of achievement that comes from winning a multi-round championship.
"Winning World Series is a major accomplishment because it's a lot more work than a one-off event," Beaton says, even though he's still very proud of his Grand Annual Sprintcar Classic victory with Jamie Veal in 2016 and Australian Title with J-Mac in 2013. "I've always had that Larry Perkins attitude, that championships are won in the workshop and when you can put a whole series together without mechanical failures, that's a huge feat!"
Two-time winner John Sidney was more widely known for his exploits as a team owner, but whilst ownership and management consumed his time building the chassis and engine business of John Sidney Racing, tuning for Max Dumesny was the weekend of escape.
"I first met Max in his late teens and along with Bill Barrows helped him buy an ex-Jack Maggs car and lent him some parts, and he blew everyone away so we took him on in his early twenties and we raced everywhere and lots of success. They were amazing years."
John has been credited with having the first fully fledged speedway race car transporter in Australia, setting up a 1977 UD 26 foot rigid in the early 1980's that set a new standard in touring for race teams in the nation. That truck would become the home on the road for the team when they claimed Max's first two titles in '89-'90 and '90-'91.
"That twenty years with Max was the best years of my life. It wore me out though because we were racing every weekend of the season in Australia and then doing about forty races in America as well. It was all part of promoting our own products and building the business, because we were producing about forty cars and seventy engines a year in those days, but it was a lot of fun!"
Two crew chiefs share the honour for second most successful tuner in the series, with four wins each between 2001 to 2010.
Daryl "Mouse" Green first started out working with his brothers Steven and Trevor in South Australia and when the Green Brothers Racing outfit entered a hiatus around the turn of the new millennium, Mouse received a call from Max Dumesny to build some new Maxim chassis' for him.
"Things had been a bit quiet with race wins for Max then by his usual standards, and it had been a while (eight years) since he'd won World Series," Mouse recalls, "but we started to get rolling again with the new car and won World Series, and the Title and a few other big races in 2001-02."
The Dumesny/Green combination would claim the series again in 2003-04, 2004-05 and 2006-07 to award Mouse four titles as part of Max's overall seven championships, and the relationship continues today with Mouse now also assisting Max's sons.
"Some of the schedules in those days were gruelling, with 16 rounds and driving back and forth all over the country. But we had a blast. The teams all got on really well and we had a lot of good times away from the track. I really miss it, but maybe the wheel will turn full circle and maybe one of Max's boys will do the tour in the future. Let's just see!"
The most recent four-time winning crew chief has made some cameo appearances this year on the Scott's Transport #S55 after stepping away from full time duties to establish his family.
Pete Caporn's start in Sprintcar racing was predestined it seems. His dad would take him to watch at Claremont from an early age where he became an avid fan, but when a Sprintcar team moved into the workshop next door to his dad's truck mechanical business in Malaga, the 14 year old couldn't contain his excitement.
"Kim Buzzy had set up Scott Millings raceshop next door and dad told them that I would love to help out, so I got straight into it and went on the road with them and Randy Hannagan in 1998-99 when Randy won seven races and still lost the championship to Skip. It was an amazing education."
The work ethic of the young Perth teenager caught the eye of "Hurricane" Hannagan and he was invited to join him on the road for the World of Outlaws, so Caporn convinced his parents to let him go and relinquish his apprenticeship as a sheet metal worker to pursue his dream.
"I did two years for Randy as a tyre guy and then worked all winter over there setting up for the next season, and then two days before we were about to roll out for the first race, the crew chief got the sack and I got the job by default! They were looking for a guy with age and experience but didn't have much choice at short notice, so I had to step up!"
"I did three years all up there and then came home to work for Geoff Kendrick and Jeff Leisk for a year in WA, then got the call up from Shane Krikke to go on the road with Robbie Farr in 2002 for the next two years where we ran second to Pittman the first year and fourth in the second year."
"Krikke's took on Mark Wells for a season and then Brooke stepped in from 2005-06 and we won four championships over the next seven years, plus five Aussie Titles and The Classic in 2009 which was a huge highlight as well."
The doting father of two young boys stepped away from full time crew chief duties after that landmark seven years with Brooke to establish his family and is now based in Bunbury as the Service Manager for Bunbury Suburu. But does he miss it?
"Raising a family and being on the road don't mix so this is my priority now. But I do miss those days, particularly when Brooke, Shane, Ryan, Finchy and I didn't even have to speak to each other to set the car up. We just knew our roles and what we had to do. There's nothing like watching a race car that's set up perfectly and then getting the results. But the one-offs like working with Brooke and the Scotts is enough to keep my hand in and still enjoy it. But I'll be happily sitting on the hill this Saturday with my family to watch the Grand Final. We can't wait!"
And while family threads are weaved right through the fabric of World Series history, the honour for the most titles as a crew chief belongs to the only man who tuned both a father and son to World Series championships, and as nine time champion Brooke Tatnell esteems, Allan Felsch could be labelled an expert mentor and engine builder every bit as much as a master crew chief.
"When I look at those numbers, it's pretty impressive that Allan won six of the twelve years he went on the road. He's a legend of our sport and what he taught us young guys at the time was far more than just racing. Skip, Braz, Robbie and I would be hanging out in his shed while he'd be building motors and he'd be teaching us about life in general. The respect I have for that man is almost unmatched."
Allan is a little coy when asked about the significant influence that he has had on so many people in the industry.
"I wasn't really trying to teach them anything, it was just that they wanted to learn," he said. "Back then the information wasn't as readily available as it is now and often you had to build your own parts, or they came to you half-finished as you couldn't just buy them off the shelf. These days you can buy pretty much everything and bolt it all together and you'd probably go alright on your first night."
Allan is still actively involved in the sport, still building engines for the likes of Sammy Walsh and Ben Atkinson but still vividly remembers the start of Brooke's career like it was yesterday.
"I was there at Brooke's first race at Parramatta. He'd done his background in karts and so he was pretty talented from the get-go," he said, unaware at the time that less than ten years later he would be spannering Tatnell to four World Series championships and would be competing every night against his son Paul who was on the tools for Skip Jackson.
"We were competitors on the race track, but we all get along afterwards over a few beers. They were great days!"
The final two rounds of the 2018-19 series commence this Friday at 5.00pm West Australian time and will be webcast on www.speedwayaustralia.tv
CREW CHIEF WORLD SERIES WINS
6 WINS
Alan Felsch 87-88, 88-89 (George Tatnell) 94-95, 95-96, 99-00, 00-01 (Brooke Tatnell)
4 WINS
"Mouse" Green 01-02, 03-04, 04-05, 06-07 (Max Dumesny)
Pete Caporn 05-06, 07-08, 08-09, 09-10 (Brooke Tatnell)
3 WINS
Glen Beaton 11-12, 12-13 (James McFadden) 15-16 (Jamie Veal)
2 WINS
John Sidney 89-90, 90-91 (Max Dumesny)
Kim Buswell 16-17, 17-18 (James McFadden)
Paul Felsch 96-97, 97-98 (Skip Jackson)
1 WIN
Paul Knott 91-92 (Brad Heywood)
Ian Vale 92-93 (Max Dumesny)
Steve Brazier 93-94 (Garry Brazier
Tim "Moth" Gleeson 98-99 (Skip Jackson)
Glenno Inglis 02-03 (Darryn Pittman)
Nick Speed 11-12 (Robbie Farr)
Craig Bennett 13-14 (Steven Lines)
Dylan Buswell 14-15 (Brooke Tatnell)
Posted: 19/02/2019