DILLON ON TOP FOR WORLD SERIES OPENER
South Australian Luke Dillon has made a welcome return to form, winning the Preliminary Main Event of the first round of Queensland Speedway Spares World Series Sprintcars at Murray Bridge Speedway on Boxing Night.
Dillon qualified second to Tasmanian teenage sensation Jock Goodyer, who claimed Revolution Racegear Quicktime in his debut as a World Series Contracted driver, however Goodyer's impressive introduction came to a sickening halt when he collided with Lisa Walker on the second lap of the first heat, destroying his chassis and forcing his retirement from the night. Dillon however was determined to stay out of trouble, scoring a somewhat conservative fifth and fourth in his heats, but it was enough to qualify him on pole for the 25-lap preliminary feature alongside Californian, Cory Eliason.
Dillon was at first untouchable, however Eliason tried every angle to unseat him, while Kerry Madsen and Matt Egel observed close behind, all attempting lunges at the lead at both ends of the racetrack in the early stages.
The first casualty was Dave Murcott who battled from the third row before riding the turn three wall on lap four, catapulting the #V88 into a spark laced cartwheel right into turn four. Nine laps later, Matt Egel had wrestled the lead from Dillon before clouting the turn four wall and riding up onto the main straight catchfence to an abrupt end in the Downing Brothers owned #S97.
The pairing of James McFadden and Brooke Tatnell shared the fourth row from the start, and while McFadden lost multiple positions in the opening five laps, Tatnell had advanced two spots by lap 15 before cutting a right rear tyre and retiring.
Rusty Hickman was in sensational form starting from the third row, and featured in battles throughout the race, however Dillon proved unbeatable in the National Karate/Action Linemarking #S81 claiming an emphatic win in front of a very vocal home crowd ahead of Kerry Madsen and Cory Eliason.
"This means so much more to us than just a Preliminary A-Main win. This is great for our confidence and good for me to get a win after a dry spell, especially when you look at the calibre of the guys we beat. But the reality is that this is mainly about getting a good points haul for tomorrow night for the main race and we couldn't be happier."
In response to the 43 degree forecast today ahead of night two of the series, the start time has been adjusted to 6:30pm (South Australian time) and will feature two more rounds of heats as well as the Gold/Silver/Bronze shootout and the 35 lap Main Event.
Live race coverage can be viewed on www.speedwayaustralia.tv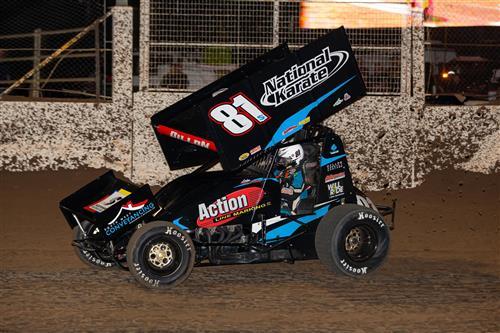 Pics courtesy of Picko's Photos
Posted: 28/12/2019