DRIVER ANNOUNCEMENT - GLEN SUTHERLAND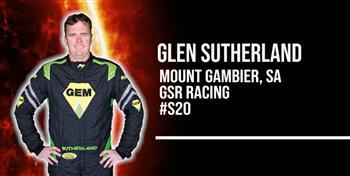 One of the paddocks most popular drivers, Mount Gambier's Glen Sutherland Racing will once again contest World Series Sprintcars as a contracted driver in 2019/20, at the wheel of his Gambier Earth Movers s20 machine.
Under the guise of new Crew Chief Matt Griffiths, Sutherland has already hit the ground running in 2019/20, finishing 9th overall in the hotly contested Chariots of Thunder series in Darwin. Now he looks to replicate this result with an outright Top 10 in World Series Sprintcars – a feat he last achieved in 2017/18
Glen Sutherland Racing is now the sixth contracted driver to be confirmed for World Series Sprintcars in 2019/20.
Click here to view the video.
Posted: 8/11/2019