DRIVER ANNOUNCEMENT - JAMES McFADDEN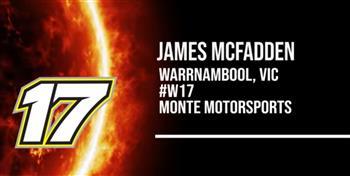 Hot off the back of a highly successful overseas campaign which saw him claim the prestigious Knoxville 360 Nationals, four-time World Series Sprintcar Champion James McFadden Racing will return as a contracted driver in 2019/20, at the wheel of the famed Monte Motorsport Sprintcar Team w17.
2018/19 saw McFadden and his Monte Motorsport Sprintcar Team come ever so close to claiming a fifth World Series drivers title, with unforced errors eliminating them from title contention late in the season. Having regrouped in the past months, honing his craft in World of Outlaws competition with a string of impressive performances for car owner and former NASCAR star Kasey Kahne, McFadden will be out to establish himself once again as the benchmark driver in World Series competition.
James McFadden is now the fifth contracted driver to be confirmed for World Series Sprintcars in 2019/20.
Click here to view the video.
Posted: 8/11/2019