Elated and Relieved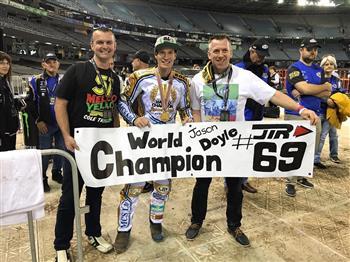 For QSS World Series Sprintcars contracted driver Brisbane's Kevin Titman, Saturday Nights Speedway Grand Prix at Etihad Stadium was a night of a lifetime...
Kevin's company John Titman Racing - JTR sponsors Australian rider Jason Doyle who was fighting to win his first World Championship in Speedway Grand Prix Bikes.
Doyle came into the night needing to clear eight points to best his Polish rival Patryk Dudek. And best him he did.
"The JTR Box was electric," Kevin said. "We were all very vocal in willing Jason on. He is a great friend and to watch his triumph, well we were elated and relieved with many a tear shed as the World Championship became a reality."
Doyle and a number of the competitors raced with wheels designed and manufactured by JTR and this big win was great reward for some very hard work by the JTR company.
Doyle was immensely proud of his achievement and reflected,
"Last time I was in Melbourne in 2015, I left this place in an ambulance with a broken neck, so to win the title and the GP here tonight is something special. We have worked very hard, not just myself and but my team and family have put up with three months of hell. A lot of pressure and we have finally done it and it has all gone off."
Photo: Kevin Titman, left with Jason Doyle World Champion and Jason Greenwood of QSS (Kevs brother in law)
Posted: 1/11/2017