FLAG TO FLAG WIN FOR MADSEN AT BORDERLINE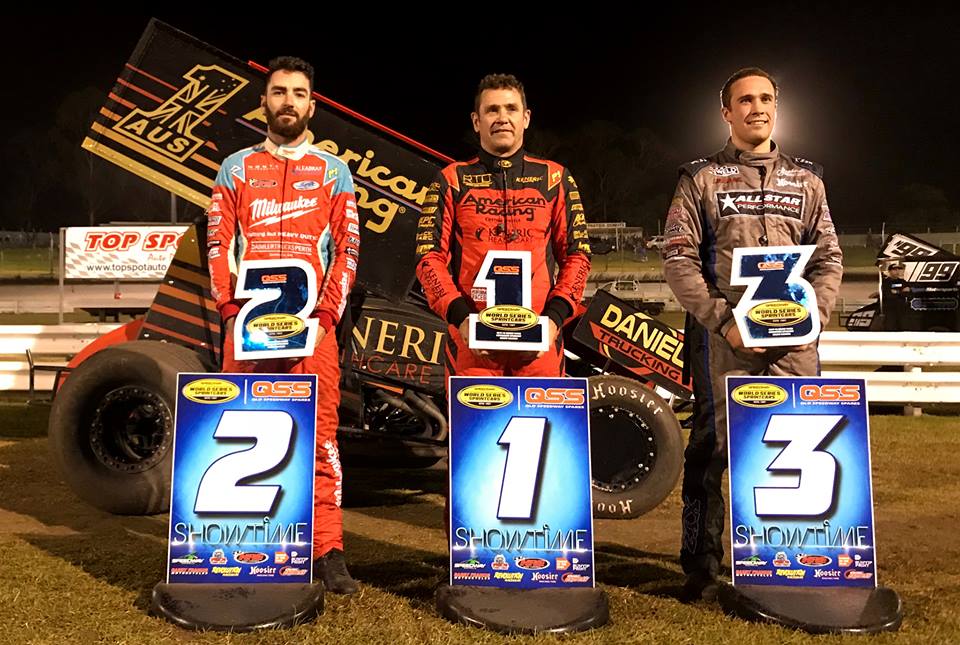 Kerry Madsen added another $10k pay day to this week's prizemoney tally with a dominant win at Mount Gambier's Borderline Speedway.
The reigning Australian Champion timed third quickest in qualifying behind Ryan Jones and Jamie Veal, and was eligible for the Top 8 bronze shootout after finishing both heats.
He advanced from the Bronze with the quickest lap, and carried the form on the Silver and Gold Shootouts to steal pole position from James McFadden, Darren Mollenoyux and Jamie Veal.
The start of the A Main was halted by early spins from Dave Murcott and Brad Keller before Madsen and Mollenoyux came together on the restart, with Madsen's right rear tyre dislodging Mollenoyux's front axle, sending him careering across the track and into the path of Jamie Veal.
Veal restarted but Mollenoyux's night was over, and the passionate #V52pilot certainly made it clear to Madsen of his distaste with the move, however an unfazed Madsen continued his domination through to the chequered flag, with James McFadden held at bay from start to finish to take second, and Lemoore, Californian Carson Macedo in third after starting 20th in his best showing this season.
The race as littered with incidents with Jamie Veal retiring infield with a steering issue and Keller, Harding, Egel and Scelzi all falling victim to an uncharacteristic spin from Jason Johnson that left the surrounding racers with nowhere to go.
Tim Van Ginneken showed good speed early and may have had a challenge for James McFadden, however an unknown breakage sent the #V36 hard in to the turn 2 wall and ending his night.
Post-race, Madsen offered an apology to Mollenoyux in his victory speech, unsure of whether it was his fault or a simple "racing incident," but then chose to focus on his crew who had worked tirelessly to retrieve the team's spare car from Warrnambool over night after the Murray Bridge incident that left him hanging off the fence.
McFadden was philosophical about his runner up result, but conceded that was very little he could do but try and stay as close as possible to the back of the #A1.
Macedo however was elated, claiming the Hoosier Hard Charger Award with his 16 car passing haul, proudly displaying the talent that won him the King of the West Series in 2015 in his native California.
The tour receives a well earned break today before embarking on Avalon Raceway In Lara, Victoria for the fourth round of the tournament.
Posted: 3/01/2018