HALLETT STUNS IN WORLD SERIES UPSET
South Australian Brock Hallett has defeated a list of his racing heroes to claim his maiden Sprintcar victory and a $20,000 payday at Murray Bridge Speedway.
Starting from ninth for the 35-lap main event, Hallett slipped back to tenth before the first stoppage for Rusty Hickman who caught the turn three wall on lap six while running second to pole sitter Kerry Madsen.
It was only another three laps before a rollover for Craig Vanderstelt brought the race to another halt, and only a further two laps before James McFadden once again became a victim of turn two to generate a third race stoppage.
On the restart however, Hallett began to make his move. Having taken a gamble in his pre-race setup that the racetrack would take rubber after baking in 40-degree heat, he headed for the pole line and began passing cars with ease until lap 19 when he reached second and zeroed in on Madsen.
Few would've expected Hallett to have the car to catch the Transport Equipment Hire/Krikke Motorsport #W2, however the former two-time Australian Formula 500 Champion took just two laps to usurp Madsen's lead and bring the impressive South Australian crowd to their feet.
With 14 laps remaining, Hallett maintained his line before the majority of the field followed him to the bottom, except Matt Egel who wagered his chances on the fence and was making progress to reach as high as fifth before blowing a tyre in the closing stages.
With just three laps remaining, a stoppage involving Jake Tranter and impressive Tasmanian Tate Frost brought on the caution lights, before Hallett powered away on the restart to claim the chequered flag in one of the most amazing upsets in World Series history.
"This is just amazing!" Hallett said. "I'm such a big fan of Kerry and Cory Eliason and watch them race in the States all the time, and to have been able to beat guys who you admire so much is just an amazing achievement for this little team. If I were to thank every person who has contributed to my career so far, we'd be here until tomorrow, but they know who they are."
"It's been a long time since I won a race, and I threw away a second at Avalon a few weeks back so let's hope this is the start of a new era for me and the team and the first of many wins in a Sprintcar!"
Madsen and Eliason were both visibly disappointed despite making the podium for the second night in succession, however Madsen leads the series on 434 points ahead of Hallett on 422 and Eliason on 413.
The series heads to Mount Gambier's Borderline Speedway tonight for round two where Kerry Madsen will attempt to repeat last year's win and extend his points lead.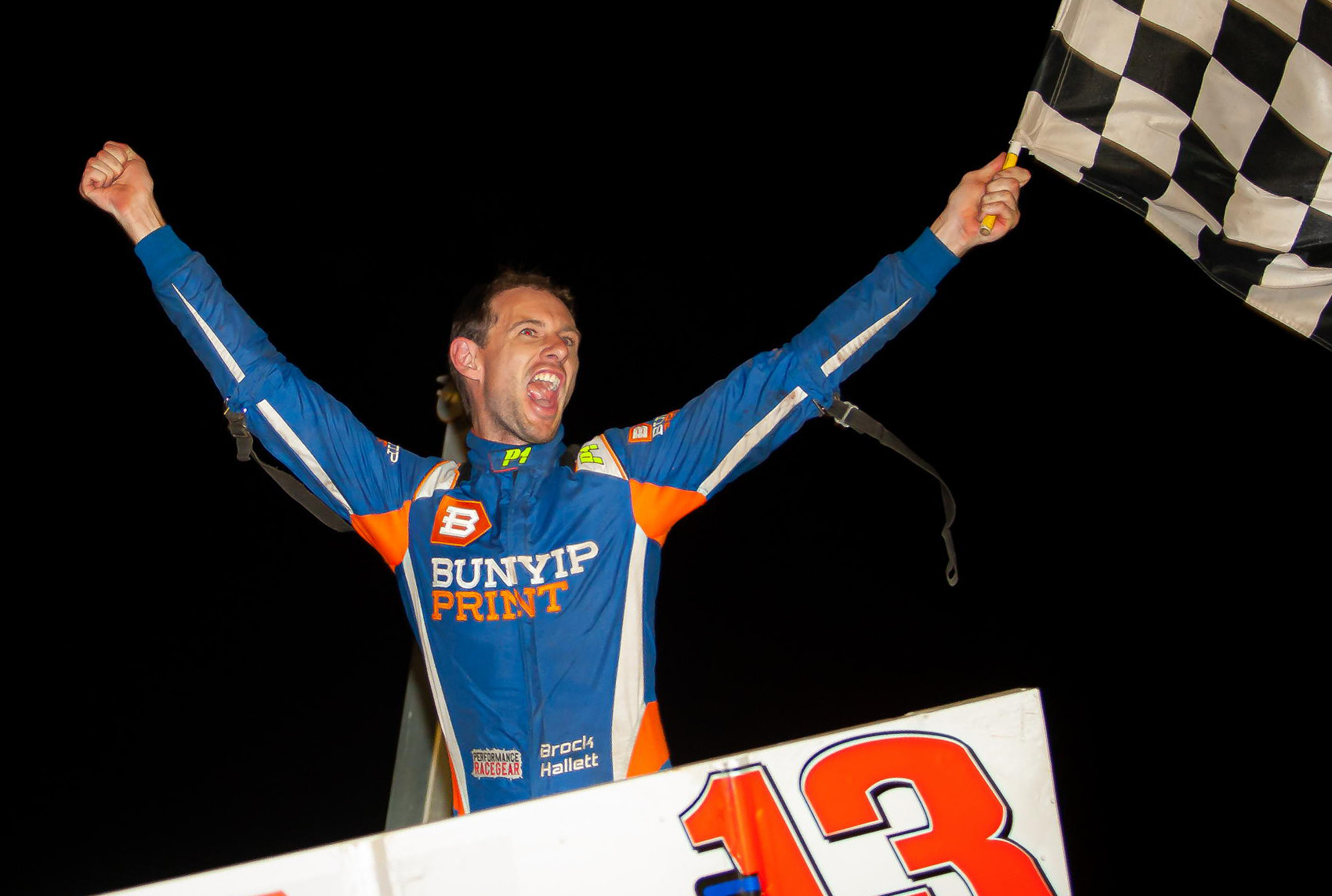 Pics courtesy of Picko's Photos.
Posted: 28/12/2019