HICKMAN HOLDS OFF VEAL FOR BREAKTHROUGH WIN AT BRISBANE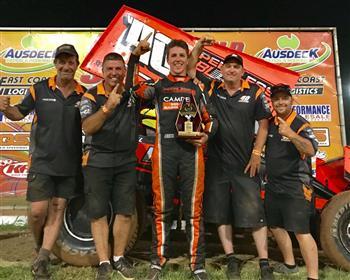 Victorian teenager Rusty Hickman has floored the Australian Sprintcar fraternity with an impressive win in the preliminary A-Main of night one of the Australian Sprintcar Open at Archerfield Speedway.
The Bendigo based 19-year-old has been a revelation throughout Victoria in the last 12 months claiming the Eureka Sprintcars series last season, however his profile skyrocketed tonight with an outstanding drive to beat home Jamie Veal, James McFadden and Donny Schatz to the flag.
"I can't even remember my other wins to compare to this one now. This is absolutely the highlight of my career so far. I am just so thankful to my mum and dad for this opportunity and my crew for working so hard to get me through a pretty tough night on a unpredictable race track to be able to bring it home tonight," he said, clutching the trophy that will forever mark his achievement.
Despite the beautiful conditions for race day, the track had reportedly received a downpour overnight, producing a choppy surface for qualifying and catching out a significant list of notable drivers.
However, Warrnambool's Jye O'Keeffe claimed his maiden Revolution Racegear QuickTime in a masterful display in the challenging conditions, followed by Jessie Attard, Luke Oldfield and Hickman, while Schatz timed ninth and McFadden was the quickest of the Series points leaders in tenth, ahead of Steven Lines in thirteenth and Kerry Madsen a surprising seventeenth.
As predicted, the heat racing was challenging, producing multiple incidents and limited passing opportunities until Luke Oldfield broke through to advance from tenth to third in heat five, but the most compelling evidence of it being a unique night in speedway history was the first two rows of the B-Main populated by Madsen, McFadden, Tatnell and Peter Lack.
All four would transfer to the back of the 18 car Preliminary Main, with Oldfield and Attard on the front row and Hickman and O'Keeffe sharing row two.
Jack Lee, Jayden Peacock, Brooke Tatnell and Danny Reidy came to blows in the first run through turn two to force a restart, with Reidy and Tatnell the only two to rejoin, however the first four on the grid held their positions for the first twelve laps while McFadden was on a mission in the background, advancing from seventeenth to sixth before half-race distance.
Veal also found something extra at the halfway mark after battling with Steve Lines from the start, while Schatz held his ground in seventh before joining the Veal and McFadden freight-train to displace Oldfield, Attard and O'Keeffe in pursuit of Hickman.
The order settled for the remaining five laps however, with Hickman claiming a career best win despite a last corner charge from Veal.
The final tally for night one promotes Jessie Attard to highest points of the event on 104, ahead of Hickman on 98 and Veal and Oldfield both on 97. Schatz and Lines both scored 91 with O'Keeffe, Logan Schuchart, McFadden and Madsen the remainder of the top ten.
Posted: 29/01/2019