Hot on the Heels…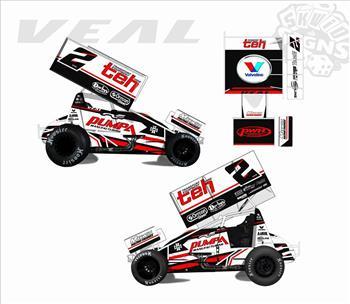 Hot on the heels of Jamie Veal's success at Avalon Raceway on Saturday Night in the $10,000 to Win Jackpot Invitational was the release of a new look Krikke Motorsport No. 2 Cool for World Series Sprintcars, the 31st annual tour.
KMS unveiled the new look acknowledging "It's been a period of change for Krikke Motorsport as we head into the 2017-18 season." The team headed by Ryan Krikke is set to continue with the re-VEAL of a new livery for their WA # 2 Transport Equipment Hire (TEH) supported 410 Sprintcar.
Krikke indicated a range of new team merchandise will also be available in the near future and in time for the opening round of WSS31 at Murray Bridge on Boxing Day.
Veal is commissioned to drive the 2 car throughout QSS World Series but on Saturday Night drove his regular SWI Engineering 35 to a financially rewarding win.
The time trial decided grid positions for the final with 'Quick Time' going to Veal with a 11.749sec single lap. With a display of great driving, Darren Mollenoyux progressed through from the Last Chance qualifier to position 2.
12 laps was placed on the lap counter with the promise of $10,000 for the winner...Jamie Veal led start to finish in a spectacular driving display with Mollenoyux in for second and Mt Gambier's Steven Lines finishing third.
Jackpot Jye O'Keefe driving the No. 42 G.J.Gardner Homes Maxim finished a creditable 6th.
Posted: 20/11/2017