Jackpot Jye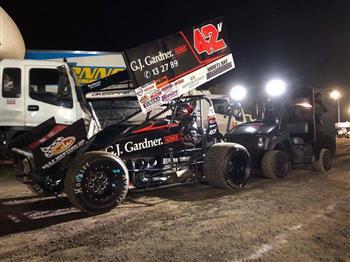 QSS World Series Sprintcars contracted driver Warrnambool's Jye O'Keeffe heads to Avalon Raceway this weekend looking for steady improvement in the lead up to the 31st Annual Tour of Australia's toughest national Sprintcar Series.
Jye and his team are looking to improve the 42 G.J.Gardner Homes Maxim powered by KRE following a mid-pack B-Main finish at Premier Speedway recently and a 9th place A-Main last weekend.
Jye said it has been a slow start but good to get a couple of shakedown runs and get back in the rhythm after a super long but busy off season. I'm amped for tomorrow night at Avalon. We have made a few little errors recently but we intend to take our 'A' game to the Place for Pace.
Jye will be joined by other QSS WSS competitors for the Jackpot Invitational $10,000 to Win in Jamie Veal, Darren Mollenoyux, David Murcott and Glen Sutherland.
Posted: 20/11/2017