KENDRICK WINS WSS GRAND FINAL ROUND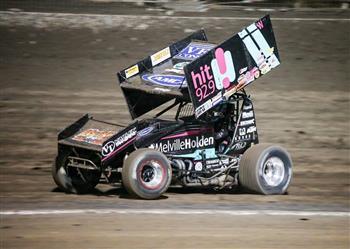 KENDRICK WINS WSS GRAND FINAL ROUND
After failing to finish with an engine failure on the night prior, local favourite Jason Kendrick raced into victory lane at the Grand Final of QSS World Series Sprintcars at the Perth Motorplex.
"That's definitely on top of the list. The World Series final is a pretty big race here at the Motorplex so to have my name as a winner of the race and just to be a winner of a World Series race is pretty cool. That's what we came here for, but I couldn't have done it without my guys, they are great team" added Kendrick as he accepted his winner's trophy from series sponsor Bill Mann.
The race began with pole sitter Kerry Madsen electing to start on the outside of the front row putting Jason Kendrick on the inside. As the green flag fell Madsen got the jump over Kendrick and Shaun Bradford, but the race was only one lap old when Carson Macedo brought on the yellow lights as the car dropped out of gear in turn four.
On the restart the race would only get as far as turn two as both Andrew Priolo and Kaiden Manders rolled in the opening turn as they crashed out in separate incidents after they both bicycled simultaneously before rolling hard.
When the race got back underway McFadden quickly got by both Bradford and Kendrick and he set his sights on the leader with Madsen and McFadden in a class of their own out front, but it would all come to end on lap 14. As the leaders came through turn one, Lisa Walker hit the wall and rolled leaving both leaders nowhere to go.
As a result, Jason Kendrick inherited the lead ahead of Bradford, Jamie Veal, David Murcott and Lockie McHugh. From this point it was all Kendrick as he claimed his maiden World Series A-Main victory over Bradford, Veal, Brooke Tatnell, McHugh, Murcott and Brad Maiolo.
The heat races provided some great entertainment with the night kicking off with Carson Macedo just holding out Brad Maiolo in heat 1 while local rookie Tom Payet and Daniel Harding also claimed a heat win.
Heat four saw a big accident in turn three after Jason Kendrick and Tom Payet raced hard wheel to wheel for position three before Payet had a front-end failure sending him hard into the wall. Payet emerged from the wreck later clarifyng that there was no contact between the two cars. Victorian Darren Mollenoyux went on to win the heat before Carson Macedo, who had wrapped up the Bunyip Print Rookie of the Year title, backed up his opening round heat victory with a win in heat 5 while Ben Ellement won the final heat of the night after sneaking past early race leader Mitch Wormall with three laps remaining.
The Top 8 Shootout saw Dave Murcott, Jamie Maiolo, Shaun Bradford, Jason Kendrick, Lachlan McHugh, Jamie Veal, Kerry Madsen and James McFadden all qualify with Madsen emerging as the pole sitter with a stunning lap of 13.106.
Mitch Wormall won the B-Main resetting the 12-lap track record, that had stood since 2004, to 2:52.99.
Posted: 28/02/2018