LINES CLAIMS UNFORGETTABLE FLAG-TO-FLAG FEATURE AT THE BRIDGE!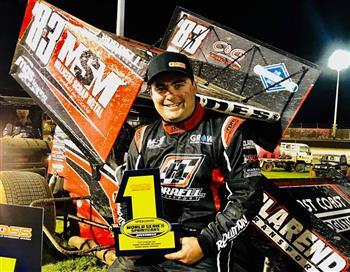 Mount Gambier's Steve Lines has claimed his first QSS World Series Sprintcars win in three seasons defeating Kerry Madsen to claim round one of the 2018-19 tour.
The former World Series champion started the 35 lap A-Main on the second row, after accruing a solid haul of points from finishing fourth and first in his heats, the latter achieved albeit with heavily damaged wings after a collision Madsen and Mitch Wormall attempting to avoid a clash with Aiden Hall who'd spun out of turn two. Lines directly qualified for the gold shootout, while Madsen started from pole after winning the Gold Shootout with the only ten-second lap of the evening.
Fresno's Cory Eliason started on the outside of the front row in the Diamond Bay Motorsport #26 and was the first to throw a solid challenge at Madsen in the opening laps, until Matt Egel arrived to upset the battle and try his hand at a pass for second, allowing Madsen to open up a sizable gap that seemed insurmountable.
Lapped traffic arrived early however, squeezing the top four back together, with Eliason, Egel and Lines trading passes and positions from lap five through to twenty, surprisingly not letting Madsen out of their grasp.
The order of Madsen, Lines, Eliason and Egel settled between laps twenty and thirty, but the bonus five laps attached to every round of Speedweek provided an unforgettable collection of passes, that started with Lines dislodging Madsen to lead, before Egel would pass Eliason and Madsen to touch second, until both repaid the move with Madsen clawing back to second with one lap remaining, and Eliason making a last corner pass to claim back third by just two-tenths of a second.
"We're really starting to get a handle on this car now and Dave Sharman and the boys really had it sorted tonight to be right for the second half of the race when it counted, so I can't thank them and everyone at Horrell Motorsport enough for the opportunity," Lines said, clearly elated with the victory."
Madsen was understandably less enthused with his runner-up result, despite being very happy with the how his new team was gelling.
"That's really hard to lose like that, especially when you've led it for most of the race, but Steve just outsmarted me in those final laps and you just can't give him those sorts of opportunities. But it's good points and I'm looking forward to Borderline," he said, relishing the thought of returning to the venue where he claimed his most recent of four Australian Titles.
Reigning and defending World Series Champion James McFadden claimed a third and a fifth in his heats, which left him out of the shootout and starting out of the fifth row for the feature, leaving him to salvage fifth, while Brad Keller claimed the American Racer Hard Charger Award for passing eight cars to finish sixth.
Unlike previous years, Speedweek competitors now have a day off after just one night of competition, before heading to Mount Gambier's Borderline Speedway on Friday for round two of the series.
Fans are invited to subscribe to the "on-demand" section of www.SpeedwayAustralia.tv to watch the replay of the opening round, while also having the opportunity to purchase a live pass for the next event from Mount Gambier, where Kerry Madsen and James McFadden finished first and second last season.
PIC: An elated Steve Lines claims his eleventh WSS win in a flag-to-flag 35 lap pass-fest!
Posted: 29/01/2019