MADSEN TOPS WSS TALLY WITH MOUNT GAMBIER WIN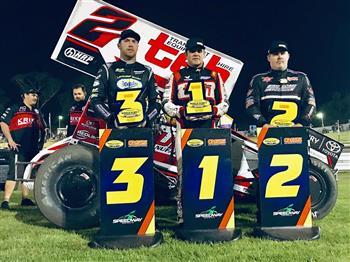 Defending Speedweek Champion, Kerry Madsen has assumed the QSS World Series Sprintcars championship lead with an epic win at Mount Gambier's Borderline Speedway.
The Iowa based racer began the night by qualifying third quickest in flight-two of Revolution Racegear time-trials behind super impressive Victorian Rusty Hickman and South Australian Aidan Hall, before claiming a pair of fourth placings in his heats and a berth in the Gold Shootout.
Madsen would start the 35-lap main event from pole position, sharing the front row with reigning Grand Annual Sprintcar Classic champion Corey McCullagh who struggled to make a solid start, instantly falling into the clutches of David Murcott and Grant Anderson before Aidan Hall tagged the wall in turn two in the second lap to bring on the first stoppage.
With the field reset for the restart, it soon became evident that James McFadden and Californian Cory Eliason were on a mission, advancing from eleventh to sixth and nineteenth to fourteenth respectively in the opening stanza, while local hero and first round winner Steven Lines slipped four spots back from fourteenth in what seemed like an insurmountable challenge to claw back into any contention.
Only another handful of laps were completed before Rusty Hickman and Jamie Veal stopped the race with contact entering turn one, retiring both drivers from the race and triggering another opportunity for Lines to salvage his poor start and for Eliason to continue his forward charge, while James McFadden would advance into third, seemingly out of nowhere.
Jye O'keeffe would be the next casualty on lap fourteen, handing Eliason another springboard to leap from seventh to second in just three laps, to go into direct combat with Madsen.
After five laps of intense cat-and-mouse where Madsen began to experiment with the bottom racing line, the four-time Australian Champion moved back to the top where he'd comfortably led the race and misjudged Eliason's exit off turn four, squeezing the Diamond Bay Motorsport #26 into the front straight wall to an abrupt end.
With twelve laps remaining however, Madsen reaffirmed his grip on the lead on the restart while Murcott and Anderson locked in the minor positions, with McFadden settling for fourth and Steve Lines miraculously storming back to fifth to complete the 35 lap journey.
"I feel bad for Cory because no one wants to win races by hitting another car, but I just didn't see him or hear him and he obviously had more speed than I thought," Madsen conceded.
"But we're really starting to make some progress with this combination now and I'm looking forward to Warrnambool."
Madsen now leads the series and Speedweek tally with 588 points ahead of Steven Lines on 543, with defending champion James McFadden on 478 points in third.
The series heads to Warrnambool's Sungold Stadium tonight for round three, before heading to Avalon on Sunday, then returning to Warrnambool on Tuesday night.
Pic – Kerry Madsen victorious over David Murcott and Grant Anderson
Posted: 29/01/2019