MADSEN WINS A THRILLER AT THE BRIDGE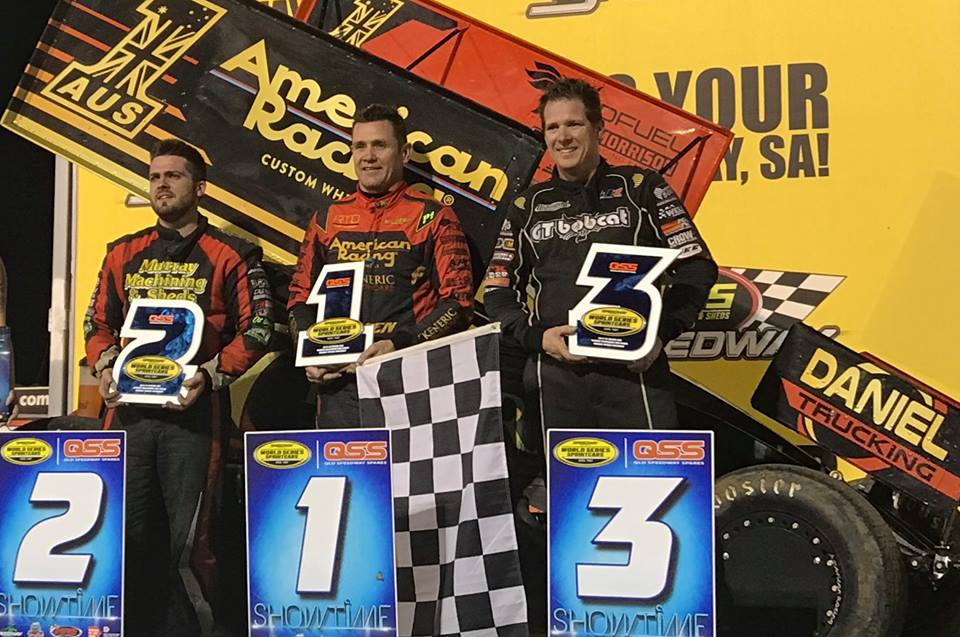 Reigning Australian Sprintcar Champion Kerry Madsen has claimed a $10,000 purse in a thriller at Murray Machining and Sheds Speedway, Murray Bridge for the opening round of QSS World Series Sprintcars for 2017-18.
Madsen qualified 8th quick in his flight in the 45-car field, while South Australian stalwart Jamie Cobby claimed Revolution Racegear Quicktime overall but was let down by a collection of incidents in heat races relegating him to a fourth row start in the Main.
Louisiana's Jason Johnson started from pole sharing the front row with Matt Egel, with impressive local Ryan Jones and Warrnambool young gun Jye O'Keeffe on the second row.
However, O'Keeffe ended his campaign in the first turn, catching the wall and rolling over, before Aidan Hall made a similar mistake in the same spot six laps later with 34 laps remaining.
Jones was relentless in his pursuit of Johnson, while Madsen was needling away from his third row start, dicing with Jamie Veal and Luke Dillon before finding some grip low on the exit of turn four and shooting to the front.
James McFadden was aggressively charging forward from his 11th starting spot, finally boiling over at the half way mark when he and Veal came together in turn one, with both spinning, but only McFadden able to keep his engine alive.
Veal unceremoniously restarted from the rear of field, and as the track began to lightly take rubber, he fell into the clutches of Madsen who ironically met him in lapped traffic with only a handful of laps remaining.
In the meantime, Ryan Jones had outsmarted Jason Johnson to take over second while Johnson held on to third, Matt Egel fourth and James McFadden rounding the top five.
"That was a great racetrack," Madsen said in Victory Lane, "and it was just a case of trying to find what moisture was out there, and we just struck it at the right times."
Jones echoed thoughts, but was torn between being disappointed with second and jubilant of a podium finish.
"Without being cocky, we came in confident, so to not quite get there is disappointing, but when you consider the calibre of this field, we'll take second!"
Johnson labelled the race track as "a dream come true," claiming that "riding the cushion in three and four was great fun, but we just didn't have the speed to keep up with those boys, but this a great way to start the week."
Cory Eliason claimed the Hoosier Hard Charger award, driving from 16th to 9th in the USA00 Devil Race Karts entry, while fellow Americans, Carson Macedo crashed out of the B Main and Dom Scelzi retired earlier in the night with a broken rear end that led to further issues.
The 31st World Series continues tonight at the same venue for night two of KRE Speedweek with another $10k on offer for the winner.
Posted: 3/01/2018