McFadden heads the pack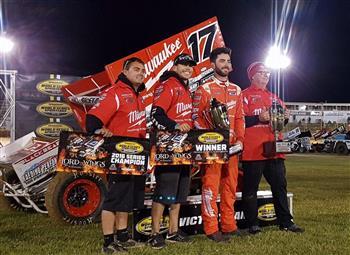 Monte Motorsports James McFadden heads the pack heading into the final four weekends of the 30th Anniversary of World Series Sprintcars.
The Milwaukee Tools W17 has accrued 2795 points across 11 nights of racing, which is 240 ahead of second placed Jamie Veal. The defending champion in his SWI Engineering V35 has not enjoyed the same success as 2015/16, having only beaten McFadden once in the previous six rounds. In third place, 556 points behind McFadden is nine-time winner W2 Brooke Tatnell. He needs a fantastic effort over the final six nights of racing if he is to close out on a tenth title, something is Krikke Motorsport team will be desperate to achieve.
Click here to view the full standings for the 147 drivers who have lined up during the 2016/17 edition of World Series Sprintcars.
Posted: 13/01/2017