McFADDEN SECURES THIRD WORLD SERIES TITLE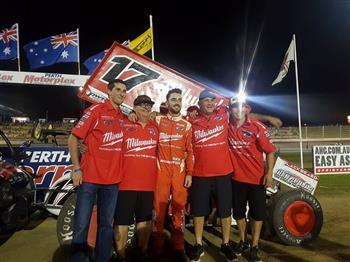 Monte Motorsport's James McFadden is the new World Series Sprintcars Champion, securing his first title since 2012/13 with a memorable A-Main triumph at Perth Motorplex. For team principal Luch Monte it was an emotional maiden World Series Sprintcars title after many years of effort, while crew chief Kim Buswell was similarly relieved. However, after doing enough in time trials and heats to create an unassailable championship lead, McFadden was more interested in being released from the burden of racing for points and promptly stormed to victory from his Grid 3 start.
The A-Main itself went green for 22 laps, pausing only for a Taylor Milling spin. Second placed Kerry Madsen tried to seize back the initiative from the restart but it was McFadden's night and he retook the lead. In third place was a well-performed Cameron Gessner, leading home Jason Kendrick and Jamie Veal.
The 30th anniversary series winner collected a total of 3988 points, with McFadden beating defending champion Jamie Veal into second place on 3716 points. Third was nine-time champ Brooke Tatnell on 3332, with Daniel Harding fourth (after 14th in the A-Main) on 2792. Steve Lines was fifth home overall with 2389 points, while a heat win and 11th in the final A-Main was enough for W14 Jason Pryde to end up sixth with 2170.
The Western Swing was determined over the final three WA rounds, with Jamie Veal holding a narrow lead heading into the Grand Final A-Main. McFadden's win was enough for him to rocket past and take even more silverware for his night's activities, and his haul of 918 outscored Veal's 863 and Brooke Tatnell's 809.
Posted: 28/02/2017