MCFADDEN WINS KWINANA NAILBITER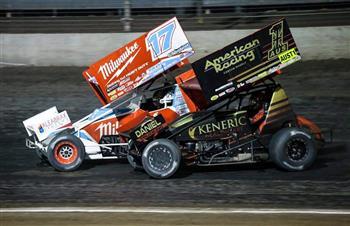 James McFadden has one hand on the 2017/18 QSS World Series Sprintcars trophy after a stunning drive on a carnage-filled night at the Perth Motorplex.
While many of those around him ended up in the wall, on their roof, on the tow hook or in some other spot of bother, McFadden was untroubled as he got the better of Australian champ Kerry Madsen in another epic battle between the two form drivers in the country.
Starting the Milwaukee Tools #17 on the second row, McFadden caught and passed QuickTime winner Madsen just after half race distance, and withstood a fierce last lap attack to secure the win. While disappointed he hadn't done enough to win the series with a night to spare, McFadden was looking forward to making the necessary moves in the early part of tomorrow's meeting.
His rival in the series W2 Jamie Veal had to settle for fourth in the A Main, with W26 Brooke Tatnell securing the final podium spot with an assured drive. American Carson Macedo was as high as third momentarily but a late race spin and regather after trying to use the same space as Tatnell saw him finish fifth.
Daniel Harding was the Hoosier Hard Charger after advancing 14 places through the A Main field to take sixth, while Q23 Lachlan McHugh and N56 Mick Saller both also made double figure passes.
The depleted finishing order mainly came via two incidents in turn 4. V52 Darren Mollenoyux rotated on the first lap of the second restart and Jamie Maiolo, Jye O'Keeffe and Jack Lee all joined him on the infield. Soon after Glen Sutherland and Mitchell Wormall came together following an S20 spin.
Early pacesetter W11 Jason Kendrick's night ended in a cloud of smoke, after the crew had rushed to change an engine following the Shootout.
Earlier, the likes of W9 AJ Nash and W60 Kaiden Manders ended their nights with tough rollovers, with the recovery and push crews kept busy in most races.
The Grand Final resumes at 5pm Sunday, with second placed Jamie Veal looking for a miracle and Carson Macedo in third overall hoping to wrap up the Bunyip Print Rookie of the Year Award.
Posted: 28/02/2018