NARROW WIN TO SCHATZ AS MADSEN TAKES SERIES LEAD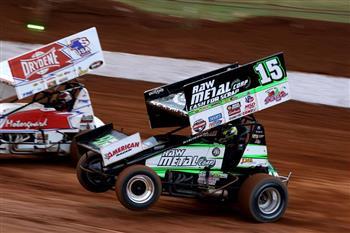 Donny Schatz has marked his final Australian appearance for the season with a narrow win over a rapidly closing Jamie Veal at Brisbane's Ausdeck Patios Archerfield Speedway for round seven of QSS World Series Sprintcars.
Schatz began the journey to his 27th WSS victory by claiming Revolution Racegear Quicktime honours, before running fifth and fourth in his heats and locking into a front row start alongside local favourite Luke Oldfield.
Oldfield dominated the start of the 35 lap final, leading Schatz, Veal and James McFadden into turn one to ignite a phenomenal four-way battle for the lead for the first four laps, before two pauses produced cautions, firstly for a spin from Andrew Scheuerle in turn one and shortly after when Brent Kratzmann and Jason Pryde made contact on the back straight, with both cars retiring.
On the restart, Veal gained the lead and held on for four laps until Schatz got past the Victorian, trying to clear out from the battle for second behind him between Veal, McFadden and Oldfield, while Kerry Madsen had advanced to sixth after starting tenth.
Series leader Steven Lines had started eighth but struggled to make the topside of the track work, slowly falling back through the field as Brooke Tatnell progressed to fifth to stay in touch with the top four.
McFadden was trying everything, dislodging Oldfield for third on lap 14 and momentarily making it past Veal for second on lap 23, however the reigning WSS champion clouted the turn three infield tyre barrier on lap 31 whilst running third, only surviving half a lap before retiring to eventually finish 18th.
Just when it seemed that Schatz was left to cruise home to claim the win, Veal pounced on the second last lap while the ten-time Knoxville Nationals champion tried to needle through a wall of lapped traffic, running side by side out of turn two for the final rotation as Schatz worked the high side of the track to avoid traffic, leaving Veal too short a run out of turn four to miss the top spot by just two-tenths of a second, with Oldfield in third.
Lockie McHugh claimed his second American Racer Hard Charger in succession by passing seven cars to finish ninth, while Kerry Madsen finished in fourth to inherit the series lead by a slender eight points from Steve Lines who finished fifteenth.
McFadden's heartbreaking retirement now leaves him 126 points behind Madsen, as the series heads into a break for the remainder of January before recommencing in Albany on February 16 for the final three rounds of the championship.
Pic: Matthew Paul Photography
Posted: 29/01/2019