OKEEFFE looking FOURward TWO WSS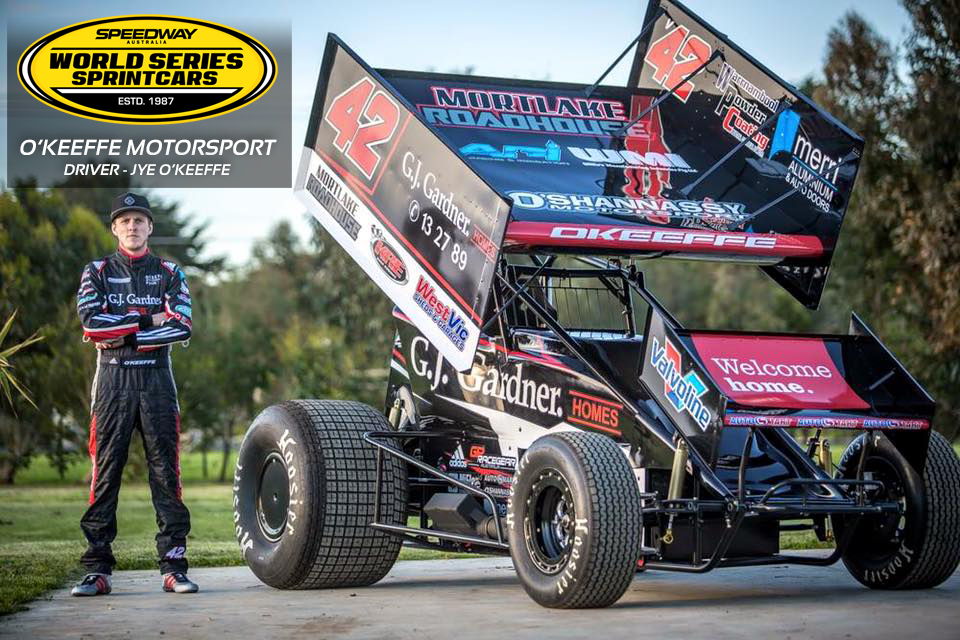 OKEEFFE looking FOURward TWO WSS.
The challenge of racing Australia's best is the motivation behind Warrnambools Jye O'Keeffe's decision to campaign World Series Sprintcars – the 31st Annual Tour.
Speedway Australia is pleased to announce the 25 year old Motor Mechanic as the 2nd driver to receive a contract to campaign Australia's toughest Sprintcar Series scheduled to commence at the Murray Machining and Sheds Murray Bridge Speedway on Boxing Day.
'Jyro' will pilot the No.42 Maxim, powered by KRE and sporting the GJ Gardiner Homes brand. "The schedule suits our team and I've got the travel-bug again just as I did when I raced F500's." O'Keeffe said.
A graduate of the popular Victorian F500 competition where he scored 2 State Championships, JYE is excited to follow his WSS dream with long time mentor Paul O'Shannassy.
Paul will guide the OKEEFFE FOUR TWO team throughout the tour with the support of API Plumbing, O'Shannassy Motorsport, Zambreros, Willies Manufacturing Industries, Mortlake Roadhouse, Thomo's Race Graphixs, Westvic Sheds, Merri Aluminum and Auto Doors, Warrnambool Powdercoating, Niflex Engineering, Valvoline, Okely Contracting, G&H Distributors Autosmart and KRE.
"The local business community of Warrnambool has pledged huge support, which I appreciate very much," Jye said. "I look forward to good performances and along the way raising the profile of the team and our partners."
Jye considers a top 10 finish in the Speedway Australia WSS Pointscore would be an achievement but he will also focus on the prestigious Bunyip Print Rookie of the Year Award as part of World Series Sprintcars.
"With up to 12 teams eligible for the award, this will be one hell of a competition within the WSS competition." Jye said.
Posted: 12/07/2017