QUEENSLAND SPEEDWAY SPARES TEAMS UP WITH WORLD SERIES SPRINTCARS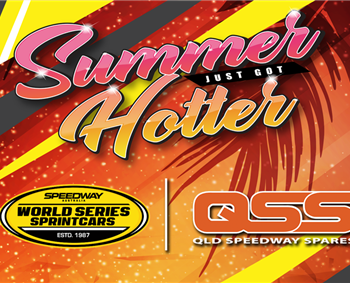 We pleased to announce Queensland Speedway Spares (QSS) have once again returned as the major partner of World Series Sprintcars 2019/20.
Following on from two ultra-successful seasons, Bill Mann and the team at Queensland Speedway Spares (QSS) will again be a crucial part of the 14-round series that kicks off on Boxing Night and runs through to the end of February.
Queensland Speedway Spares (QSS) is dedicated to bringing the very best brands and product range from the USA and to make them available at the most competitive prices. Bill has a lengthy pedigree in the sport, beginning with "Bill Mann Performance Engines" initiated in 1976, through to building Queensland Speedway Spares into an industry leader.
Queensland Speedway Spares (QSS) stocks a massive range of products from over forty leading manufacturers including Eagle Motorsports Inc, Stallard, Driven, HRP, Weld Wheels, PAC Schroeder, FK Rod Ends, Butlerbuilt, Ultrashield, SCS Gears, QTM Brakes, DMI, M&W, Intercomp, Fuel Safe, Racing Optics, Brunnhoelzl, Pro Shocks, Spintech, Schoenfeld and XYZ.
Welcome back to Queensland Speedway Spares (QSS) World Series Sprintcars!
Posted: 20/12/2019