Stakeholders Agree on WSS30 Round
The Albany round of World Series Sprintcars - the 30th Anniversary Tour has been cancelled following a meeting of stakeholders late last week.
Atwell Park Speedway was to host Round 16 of the celebratory competition but a joint decision involving Speedway Australia senior management and the Albany Speedway Club opted to cease ongoing planning to hold the round, based on the intelligence gathered from West Australian based race teams.
Despite the enthusiasm of Speedway Australia and the management of Albany Speedway to go ahead, all indications were the number of entries required to make the show a success was not obtainable, therefore consolidating concerns the meeting would prove unviable for the investors.
Speedway Australia is considerate of the brand World Series Sprintcars, renown as Australia's Premier National Sprintcar competition. "We did not want to place the credibility of the Series in jeopardy and we are certainly conscious of what needs there are to be delivered for the fans, for the event to be considered a success," General Manager of Speedway Australia Tim Savell said, "It's regrettable the round has been withdrawn, but Speedway Australia will continue to work with the regional West Australian Speedway to ensure a successful season ahead."
President of the Sprintcar Association of West Australia Frank Scardifield said "It's the belief of his committee that the inability to attract numbers was indicative of the current economy in the West. Our teams are conscious of the costs incurred while travelling and time away from the workplace, so we understand and support the amicable decision of all parties."
Albany Club Manager Geoff Green while disappointed agrees by the decision, "Its best for all concerned that we make the call early, to minimize inconvenience and so we can massage our race calendar accordingly."
World Series Sprintcars will touch down in Perth on February 11 2017, Bunbury on February 18 with the Grand Final rounds at the Perth Motorplex February 24 and 25.
30 Summers Tells the Tale
Official WSS30 Poster including Calendar.
The poster features current WSS Champion Jamie Veal and 9 time Champ Brooke Tatnell.
Thank you to Photographers Peter Roebuck of Perth and Matt Hines of Jigsaw Photography in Sydney for the images of the Race cars.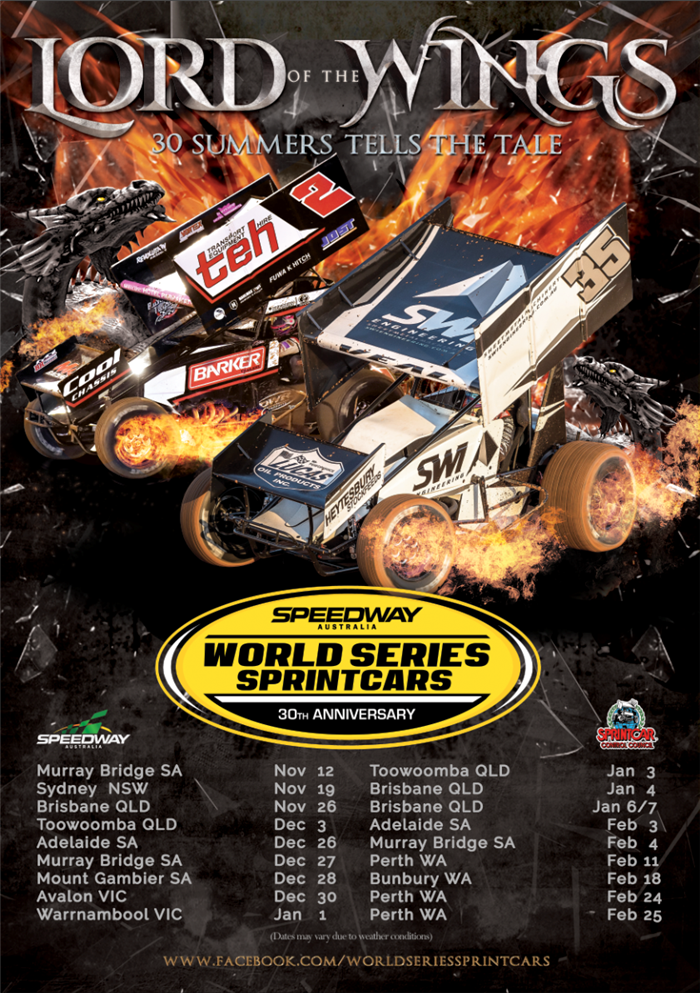 Posted: 4/10/2016