SUMMER JUST GOT HOTTER: DRAFT WORLD SERIES CALENDAR RELEASED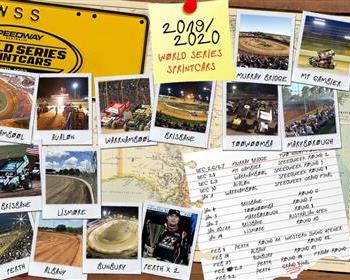 Speedway Australia has released the 2019/20 World Series Sprintcars schedule, featuring an expanded number of race nights and three 5-round swings. It's an exciting season ahead for the premier speedway series in the country.

In brief the changes to the calendar are as follows:-

a) Speedweek expands to six nights, with Murray Bridge hosting a two-night $20,000 to win opener.

b) The Sunshine Swing welcomes back Toowoomba and Lismore to the series, and heads to Maryborough for the first time. Two Tuesday night rounds will tempt the summer holiday crowds.

c) After the three-week break that culminates with the Australian Sprintcar title in Tasmania, the Western Swing expands with five rounds over two weeks in Perth, Albany and Bunbury.

Thanks to the 2018/19 venues for their ongoing support, with all returning to the fold next summer. And a big welcome to those who are either back on the calendar or hosting for the first time.

The exciting conclusion to the 2019 campaign means the actual race meeting formats are unchanged from last year, with Perth again hosting the series finale on the last weekend of February.

Speedweek
Dec 26/27, Murray Bridge, SA
Dec 28, Mt Gambier, SA
Dec 29, Warrnambool, VIC
Dec 30, Avalon, VIC
Jan 1, Warrnambool, VIC

Sunshine Swing
Jan 4, Brisbane, QLD
Jan 5, Toowoomba, QLD
Jan 7, Maryborough, QLD
Jan 10/11, Brisbane (Australian Open)
Jan 14, Lismore, NSW

Western Swing
Feb 8, Perth, WA
Feb 14, Albany, WA
Feb 15, Bunbury, WA
Feb 21, Perth, WA
Feb 22, Perth, WA

All dates are subject to change, with all venues still to be 100% confirmed.

In summary, the series has expanded from 10 to 15 rounds in the same timeframe as last year. A number of teams have requested midweek rounds to assist with their logistical requirements, and this has been accommodated for the 2019/20 series.

We know this is a calendar that will excite fans and racers alike, and we look forward to bringing you the best Sprintcar action in the country again next summer.
Posted: 5/06/2019