The First is the Hardest!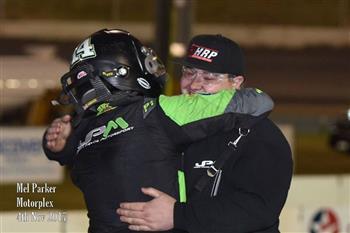 Perth based QSS World Series Sprintcars contracted driver Jason Pryde claimed his first 410 feature race victory on Saturday Night at the Perth Motorplex.
Pryde started his No.14 Austwide Communications Cool from P3 for the 30-lap final on a slick race track that saw most of the drivers hug the bottom line throughout the main event.
It was a battle of patience and finesse for Pryde who led home hard charger Jason Kendrick and Jamie Oldfield.
The win capped off a good night for the 14, scoring a heat win and a 5th place as well as playing his joker card and scoring double points in his triumph.
"The tyres were getting low in grip and a vibration appeared as they do during the final 3 laps, but with the finish line in sight there was no way I was going to the infield." Pryde said.
This win is a great reward for the commitment of JPM to the sport. "It was emotional and a relief to finally get to the top step of the podium." Jason said "Thank you to everyone associated with JPM, great job Jono Coyle and I promise I will practice victory donuts".
Mel Parker photo: QSS/WSS Driver Jason Pryde celebrates with crew Chief Jono Coyle.
Posted: 9/11/2017