Wing Dancer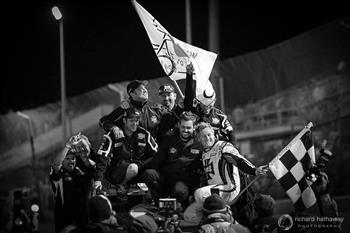 His passion for Sprintcar racing within Australia is well documented and was recognised as mentor of the Krikke Motorpsort Team based in West Australia.
Shane's belief and determination to see the sport prosper and excel at an elite level was his mantle with his support of Australia's premiere sprintcar tournament, World Series Sprintcars unquestionable.
To Shane's wife Jode and the Krikke Motorsport family and friends, the Board and staff at Speedway Australia offer their sincere condolences.
To Shane: our time together in planning World Series Sprintcars – The 30th Anniversary Tour was cut way to short, we promise you, we will work diligently, to make it everything you believed it should be….
Photo:
Mt Pleasant's Richard Hathaway captures a special moment in Australian Speedway, Titled "Wing Dancers" Brooke Tatnell's win in the 2015 Krikke Boys Shootout has the Krikke team celebrating with a wing dance and Shane at the summit. Richards's image reflects similarities to the iconic WWII photo by Joe Rosenthal "Raising the flag at Iwo Jima."
Posted: 22/09/2016